Our first NZ install of a Zepro tail lift has been completed by Alimax on an E300. These are rated at 5990kg GVM and can be driven on a Class One license.
First look at the LHD diesel version of XCMG's new P5 cabin. The RHD electric version will allow us to extend the Etruck range to include heavier 4×2 and 6×2 trucks.
Our new 180kW dual gun charger now has full IEC certification. We will test one on the E700 6×4 tractors before shipping to New Zealand.
We can now offer factory fitted "E" series Thermo King temperature control units on the electric trucks. The "E" series chillers are specifically designed to match electric truck requirements. Full service and warranty support is available in New Zealand.
XCMG's fully electric reach stackers have been purchased by Cosco shipping for use at Lianyungang port in China.
A short video of the fully electric 18 tonne wheel loader pushing ash in China. We have ordered some of the smaller XC918EV for New Zealand which will arrive in August this year.
https://youtu.be/ebnHRUIJr4s
Developed at the request of the North American rental market the new XMR small roller series has won the German "red dot" design award.
The XC870K backhoes have US built Cummins QSB engines and Carraro 40kph transmissions.
Pricing with air conditioned ROPs cabins from $133,000 + GST ex Auckland.
A short video showing the various functions.
https://youtu.be/7jrhfTKuj1M
Another LW180KNZ ready to truck, this time to Loveridge Ltd's Kawerau site.
Craig Davies Innovation picking up their XE60ED Plus and trailer in Taupo.
Mathew Cropp of Frontline systems with his new XE80N.
A couple of diesel rough terrain scissors ready for delivery to Latham Construction
Dinesh standing in a 7.8cbm replacement bucket for Living Earth.
Part of a 205 unit order of roading machinery for Cambodia.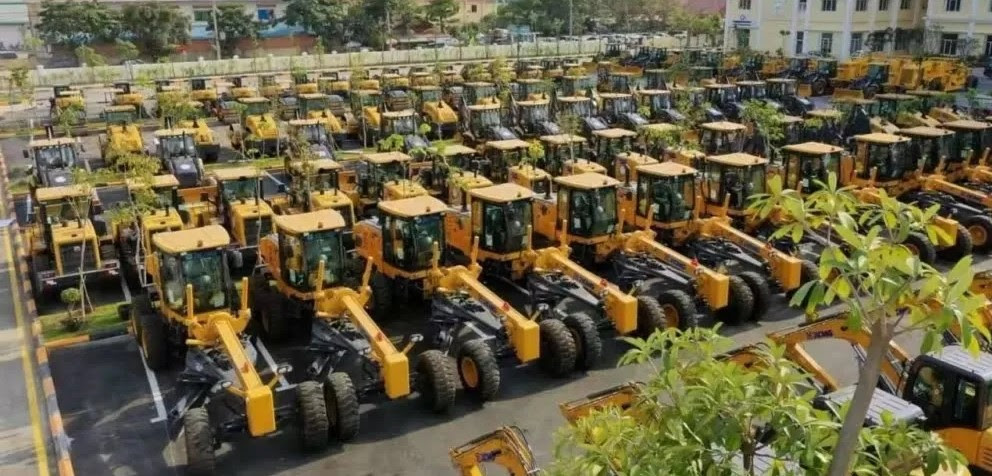 A computer animation of the building and some of the key technology of the 150 tonne diesel electric wheel loader.
https://youtu.be/LH971JxmpmU